Get Perfect Curls
With A Diffuser
For curly hair, ideally you should allow your hair to dry naturally, however most of us don't have time to wait -- that's where a diffuser comes in. By adding a diffuser attachment to your hair dryer, you can gently dry your hair to produce beautiful curls without the frizz.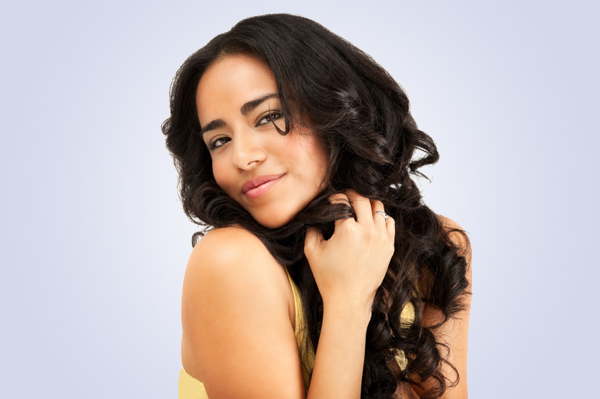 What is a diffuser?
A diffuser is an attachment for your hair dryer that you simply place on the end of the nozzle. The diffuser allows you to dry your hair quickly, but without the strong force of the air. The diffuser attachment disperses the air flow, spreading it over a larger area. Using a diffuser on curly hair keeps it from getting frizzy, creating soft, natural curls without altering the wave pattern.
How to dry your hair with a diffuser
Whether you have short hair with tight curls or long, wavy locks, you can use a diffuser to distribute the heat and dry your hair gently. Set your blow dryer on a low speed and medium heat. Apply a curl- or shine-enhancing product throughout your hair. Dry your hair, starting at the roots. Use a circular motion and keep the diffuser close to your scalp, angling the blow dryer at 90 degrees. Continue drying your hair from the roots to the ends. Blow a "cool shot" of air through your hair to set it.
How to add volume to your hair with a diffuser
For limp locks, use a diffuser on your blow dryer to add volume to your hair. A diffuser is gentle enough to use on thin, fine or color-treated hair. Apply a curl-enhancing or volumizing spray, mousse or serum to your hair. Hang your head forward, allow your hair to fall away from scalp. Set your blow dryer on the lowest speed. Point the dryer at the roots and push your hair toward the scalp. Continue the process to the ends of your hair. When your hair is almost completely dry to the touch, throw your head back and then finger style your hair into shape.
How to use a diffuser video tutorial
Watch this video tutorial to learn how to use a diffuser attachment to create loose, natural-looking curls without waiting for your hair to air dry.
In the '80s and '90s, hair dryers normally came with diffuser attachments, however, in recent years, you must purchase them separately. You can find hair diffusers at most beauty supply stores, where you can talk to a salesperson about which one is best suited for your hair.
For curly or wavy hair, a diffuser prevents frizzy hair and also reduces the damage caused by the direct heat of the hair dryer.
More hair care tips
How to turn curly hair into soft waves
Beating curly hair blues
Transform frizz into fabulous hair