Get The Look That
Drives Him Wild!
Believe it or not, your man does notice your hair. Contrary to popular belief, men not only notice your lovely mane, but they have strong opinions about what they like. Lucky for you, most of the styles men love are the easiest looks for you to accomplish.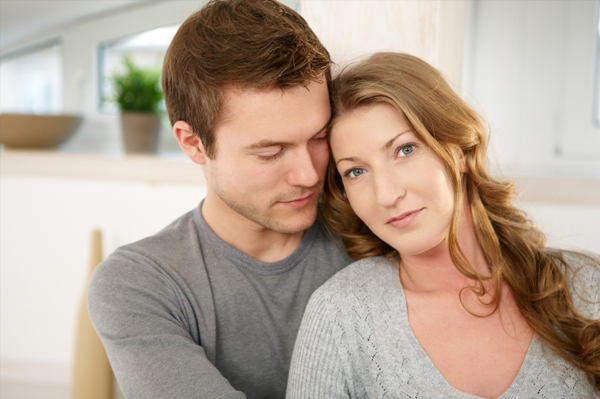 Stop slaving away trying to tame those tresses! It turns out that the looks men love are the styles that take the least effort.
Super straight
Use a straightener or flat iron to get your hair pin straight. The heat from the iron will lock in shine and help you fight frizz, two factors that will make it hard for him to keep from running his fingers through your hair. If you're going wear your hair this straight, keep it trimmed. Split ends are more visible on a blunt style and will ruin the healthy look you're trying to achieve.
A guide to salon hair-smoothing treatments >>

Soft waves
Men are enchanted by curls, but they don't want to get their fingers tangled in your locks. They aren't big fans of sticky product, either. Play up your hair's natural bounce by scrunching it with mousse while it's still wet. It'll keep a bit of volume, but still have movement. Most men find that sexy, tussled look difficult to resist.
How to turn curly hair into soft waves >>
Loose ponytail
A ponytail is your go-to look for a bad hair day. Did you know that it's also one of your man's favorites? The low maintenance, casual look tells guys you're the easygoing gal they've been looking for. Lots of men also prefer a style that gets your hair out of your pretty face.
Top 20 Celebrity ponytail hairstyles >>
Sloppy knot
The only look you find less appealing than a ponytail is probably a sloppy knot. Hard to believe it drives him crazy, right? Men don't find the look to be sloppy, but carefree and natural. They also like the glimpses of neck this style offers.
Feed his senses
We know guys like hair that's pretty to look at and pleasing to touch, but what about the smell? Guys love to get a whiff of your hair as you walk by. Use shampoo, conditioner and styling products with yummy scents that go well together. If you aren't a product girl, or if your product scent doesn't last, try perfume. Spritz a bit of your favorite scent into your hair before you see your guy for a scent that will linger in his mind long after you've gone.
Crop it
Most women assume guys only like long locks, but that's not always the case. A short, sassy cropped 'do tells your man you're confident enough to go against the grain -- a quality he'll likely appreciate. No matter what your style is, he'll be impressed if you rock it out with confidence.
More hairstyle advice
Styling tips: Embrace your natural hair
4 Steps to the perfect ponytail
4 Hair trends for 2011