Which Hairstyle
Fits Your Face?
The best hairstyle is one that complements your face shape, but did you know that there are some hairstyles that suit anyone and everyone?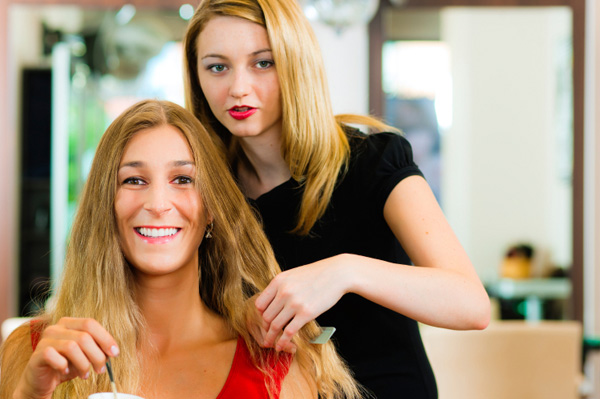 Hairstyles are about symmetry and shaping hair to complement your individual face shape, says Candice Buckett of Diesel Salon in San Diego.
Your line of beauty
"Whether you have an oblong, round, square or heart-shaped face, your hairstyle must flatter your line of beauty," says Buckett. Your line of beauty is the diagonal angle from your chin to your ear (the same line we accentuate when contouring with cheek blush or bronzer), and every woman's hairstyle should complement this feature.
The face shapes
Oblong
Adding volume to the sides will help the face to appear rounder. Layered hairstyles are best. And wavy or curly textures are great to help soften the oblong.
| | |
| --- | --- |
| | If you have an oblong face shape and the chin is the predominate area, create soft layers and avoid extra lightness or darkness when coloring, says award-winning color expert Sherry Ratay. If the predominate feature is the forehead, go for shattered bangs and create a darker reflection of color underneath the bangs. |
Round
The best hairstyle for a round face shape is one that creates movement and lines in the middle of the cheeks, making them appear slimmer. Middle parts or styling the hair with height and fullness at the crown helps elongate a round face.
| | |
| --- | --- |
| | A single-length cut and center will slim a round face, says celebrity and editorial stylist Gad Cohen. |
Square
A strong jaw line defines the square face shape. Complementary hairstyles help feminize this feature. Round layering with any length is recommended -- and a bob that accentuates the jaw line should be avoided.
| | |
| --- | --- |
| | Square face shapes should use color to create soft diagonal lines in the layers around the forehead and chin areas, says Ratay. "Always create ribbons of colors diagonally, so the eye is traveling around and not up and down." |
Heart-shaped
Length and body in a hairstyle compensate for the narrowing of the chin. The best styles are shoulder length with light layering or below the shoulders with extra layering.
| | |
| --- | --- |
| | Heart shapes should keep the narrow, swept bang -- a throwback to Twiggy, says Cohen. Add some volume to the bottom with waves or curls to fill out your tapered chin. |
Up next: Hairstyles for every face >>