How To Fix A
Common Hair Problem
Ugh! When it comes to hair problems, the number one complaint is split ends. No matter how great your cut or how well you style it, your hair will not look healthy and shiny if the split ends are showing.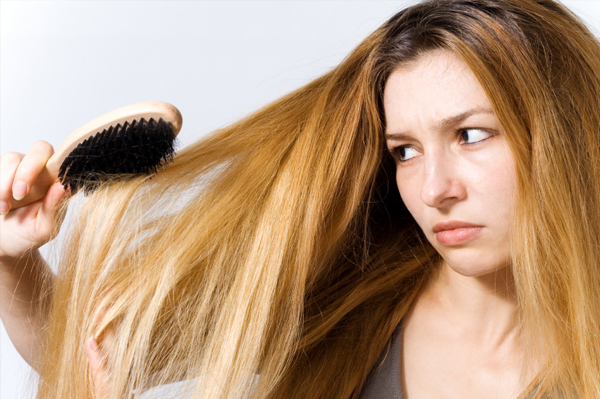 "Hair is like a rope," says Vince Smith, owner of the Vince Smith Hair Experience in NYC. "When the ends 'split,' it's like a rope unraveling, and it can't be rewoven." Award-winning color expert and salon owner Sherry Ratay likens hair to something more fragile. "Your hair fiber is like a delicate piece of fabric," explains Ratay. "Treat your hair as a piece of linen and not a pair of jeans!"
What causes split ends
"With all of the trendy hairstyles we want to show off, it's hard to prevent split ends entirely," says Kim Hudnall, who spent 10 years in the corporate sector of the beauty business and now offers her expertise at The Hip Chick Online.
Your ends may be splitting because...
…you use heated appliances -- blow dryers, flat irons, curling irons, hot rollers -- on a daily basis.
…you brush your hair when it's wet.
…your hairstylist uses dull cutting or thinning shears.
…you're "chemically dependent" on treatments such as coloring, highlighting, straightening and permanent waving
How you can fight hair static >>
How to control split ends
You can't repair split ends, but you can camouflage them. There are products that you can apply to wet hair before styling to help "seal" the ends and make it look as though you don't have split ends, says Smith. Hudnall offers these tips:
Use a moisturizing or hydrating shampoo. Rinse hair with cool water to help seal the cuticle.
Apply a deep conditioning treatment or masque at least once a week.
Use a wide-tooth comb -- never a brush! -- to comb through wet hair.
Switch to an ionic blow dryer, which dries hair with less heat. Coat the ends of your hair with shine serum before and after blow-drying.
Always apply a heat protectant before using flat irons, curling irons, hot rollers and other heat appliances. Tip: Ceramic hot irons are the best.
Heat styling itself, particularly with a flat iron, will temporarily seal the ends together, adds Smith. Catch 22: "The downside is that with regular use, it also causes damage to the hair, thereby causing more split ends."
| | |
| --- | --- |
| | Smooth your split ends with a simple home remedy, suggests Marci Wolcott, owner of Main Salon & Spa in Mumford, NY. Rub a few drops of vitamin E oil between your palms and smooth over the ends of your hair. This can be done before styling or after as a finish. |
Hairstyles that work for every face shape >>
The only fix for split ends
The only way to really fix split ends is to cut them off, says Smith. Dana Fiore, master stylist at the Louis Licari Salon in NYC agrees. "Trimming hair every six weeks helps eliminate split ends," says Fiore. "A trim seals the cuticle, leaving the ends fresh and clean." Keep your ends healthy with regular trims.
How to make fringe bangs work >>
Hair care tips and trends
Top 20 Celebrity spring hairstyles
Celebrity hairstyle photo gallery
Find the best hairstyle for you