Care For The
Hair You Inherited
Can you take credit for your "good hair," or should you thank Mom and Dad? According to hair experts across the country, you can do both. Here's what they have to say about making the most of what you've been given.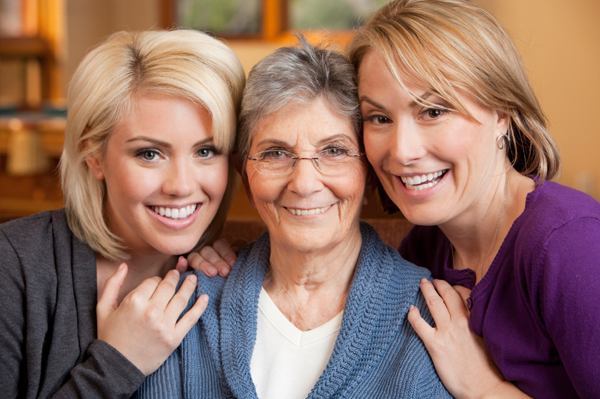 Your hair is a reflection of your family tree…
Dana Fiore is a master stylist at the famed Louis Licari Salon in New York City and says, "Genetics do not necessarily give you 'good hair,' but they do distinguish the various elements of your hair fiber." Your hair is genetic, add Vince Smith, owner of the Vince Smith Hair Experience in NYC. "The natural color, texture, density, curl or straightness, amount of gray and when you go gray, and level of baldness all come from somewhere up the branches of your family tree."
…but you do have some input
Stylist Heather Allen of Beyond Beauty Salon agrees. "'Good hair' can be genetic as well as achieved," says Allen. "It's all in what you use and how you use it to achieve the look you're going for: thicker and fuller-looking, sleek and smooth, fun and texture…  anyone can have good hair!"
Don't blame your family tree for your split ends >>
It's about DNA…
That's right, says Alan Gold, creative director of The Haig Spa & Salon in Philadelphia. "What you are born with is a combo of Mom and Dad and lots of ancestors, some better than others." And while we start our lives with this DNA, what we do with it is another story. "You can make your hair appear better with the right cut, color, condition, diet and finish, but you can't change the genetics of how it grows out from our heads."
…and a good, healthy lifestyle
"There's plenty we can do to get the best out of what we have," says Natasha Sunshine of the Byu-Ti Hair Therapy Salon in LA. "Eat well, take supplements and use great hair products!"
Find out how to tame frizzy flyaways >>
Be happy with your lot in life
"As a stylist with a lifetime of experience in the hair business, 'good hair' is a reflection of your level of contentment with what nature has given you," says NYC celebrity and editorial stylist Gad Cohen.
"To be truly satisfied (which is very rare) with your naturally curly, straight, fine or thick frizzy hair is the mark of a fully confident and content person," continues Cohen. "Most women, even those with the most luxurious hair, will always want something more or different than what they were born with -- to have good hair."
"I wear my hair, it doesn't wear me!"
"Your hair is a reflection of personality, and it's a truly versatile asset," says Cohen. "You don't have to torture your hair -- just learn to make the most of what you've been given." Sweep it up, wear it long or keep it short -- whatever good you do for your hair will become the "good" you have in your hair!
Anyone can wear a fringe bang >>
Hair care tips and trends
Top 20 Celebrity spring hairstyles
Celebrity hairstyle photo gallery
Find the best hairstyle for you