What To Wear In
The (Urban) Jungle
It's a jungle out there -- an urban jungle, that is. Hailing cabs, jockeying for position on the bus and running from one end of the city to another (in heels), every woman has to learn to be an urban warrior, but that doesn't mean we can't survive city life in style. Here are some fabulous city looks to wear this season.
(page 2 of 2)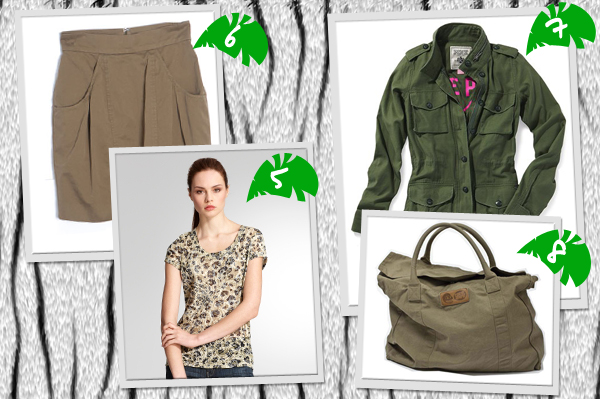 Kenneth Cole, $44
Stay cool in this sheer, cap-sleeve top in leopard print. Pair with cargo shorts or skinny jeans and flats for a casual-chic look.
Shopbird.com, $225
Head to the office in this stylish and sophisticated take on the classic cadet skirt. We love the handy pockets and soft shade of khaki. Pair with a short-sleeved blouse and ballet flats to look pulled together and professional.
Victoria's Secret, $79.50
Fend off a late evening spring or summer chill with this oversized cargo jacket with multiple pockets and comfortable slouchy fit.
Shopbop.com, $70
Tote around everything you need in this chic and slouchy Cheap Monday bag. Not too big, not too small, this is the perfect city bag to complement a casual yet stylish outfit.
More style inspiration
10 Perfect spring cardigans for less
8 Girly, cute ballet flats for less
White-out! Must-have little white fashion pieces