Adorable Matching
Easter Dresses
On Easter Sunday, spend time with your little girl doing something special. Whether you are going to church, to Easter brunch or to the park for a picnic and Easter egg hunt, dress up in adorable matching outfits. You'll love these cute mother-daughter dresses.
(page 2 of 2)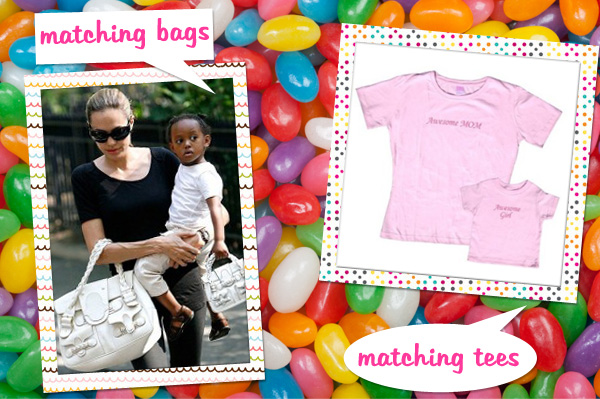 Matching shoes and bags
If dressing exactly the same is a little too cutesy or corny for your taste, wear different dresses with matching shoes and bags instead.
Ballet flats

Ballet flats are perfect for Easter. And you don't have to stick to black or white; you can find ballet flats for mommy and daughter in pretty pastels and fun brights. Check out Zappos.com and Endless.com for a terrific selection.

Flat sandals

Flat white sandals are perfect for Easter and will go with whatever you are wearing. Head to a shoe store that sells both women's and kid's footwear to find a style that comes in big and little sizes.

Wedge heels

If your daughter is old enough to handle a little heel, pick up a couple pairs of matching wedges. Wedges are very trendy right now and come in variety of fun styles for spring.

Matching bags

Matching handbags are also a cute idea. As you can see, Angelina Jolie and her daughter Zahara carry matching Valentino bags. Though you might not want to splurge on an expensive designer bag for your toddler, you can get matching bags that are perfect for Easter from Vera Bradley and other brands. Just pick a satchel or shoulder bag in a pretty pastel print and a small bag for your daughter in the same pattern.
Keep it casual
If you aren't headed to church or a fancy brunch on Easter, you can still show the world your mother-daughter bond by wearing matching tees. These Awesome Mom and Awesome Girl Tees are absolutely perfect. They range in price from $17 to $25 at Amazon.com.

Mother-Daughter Easter craft
How to make an Easter bonnet
Be the grandest ladies in the Easter parade with a winning bonnet!
More about Mom style
Stylish celebrity mother-daughter pairs
Which celebrity mom are you most like?
MommyStyle from SheKnows