Cute Spring Skirts
Nothing says "spring" like a flirty, girlie skirt, and it's time to hit the racks to pick up your favorite looks. Luckily, there's a little something for everyone this spring, so whether you like your skirts short and tight, or long and loose, you won't be disappointed by the options.
(page 2 of 3)
A plethora of patterns
Flowers and stripes and prints, oh my! While patterns can be hard to pull off, this spring's designers are sure hoping you learn to do it. Take these tips for choosing and wearing patterned skirts:

Trust your instinct: Just because a mannequin is wearing a patterned skirt, doesn't mean you need to love the look. If you wait until a pattern speaks to you, you'll have a better chance of making it work on you.

Avoid chaos: A chaotic, overly-colorful pattern will likely do nothing more than make you look chaotic and overly colorful. Choose patterns with a tasteful, logical structure that looks interesting rather than insane.

Shape matters: The shape of the skirt and the shape of your body could make or break the pattern. Even if you love the skirt's pattern, a spandex mini with wide, horizontal stripes is unlikely to flatter a bottom-heavy frame. Similarly, a maxi skirt in a small floral design will either make you look like a curtain or like Laura Ingles Wilder milking cows on the prairie. Loving a skirt, and having a skirt love you, aren't always one and the same.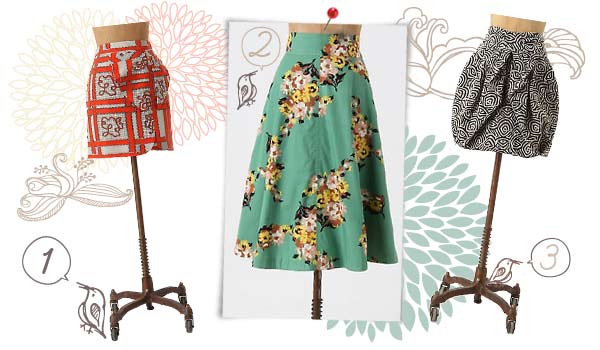 (1-3 Anthropologie)
Up next: Fresh and flirty looks for work >>