Wild Animal Print Trends
It's time to spring out of fashion hibernation and start living on the wild side with flirty and ferocious animal prints. As any smart predator knows, sneaking up on your prey is half the fun, and this spring's looks are full of surprises. Luckily, it doesn't cost a fortune to take advantage of this look -- one or two inexpensive pieces will satisfy your cravings for less than $100.00.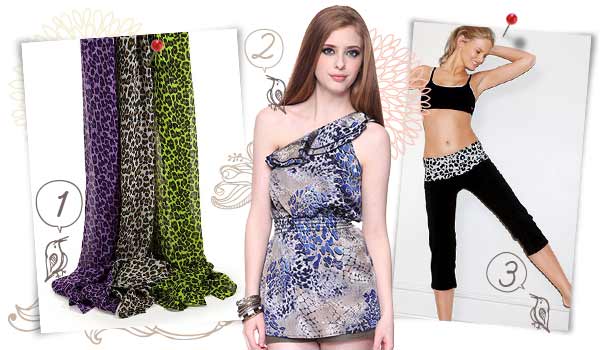 Bold scarves
Adding an animal print scarf to an outfit might be all you need to go from domestic kitty to a full-blown lioness. This spring's fashion runways were rife with colorful animal prints, so consider spicing up a drab look with an animal print scarf in plum, aqua or gold. Not sure you're into bright colors? Opt for a subtle tan leopard print or a silvery zebra stripe
Expect to Spend: $15.00 to $40.00
Multi-colored tops
There aren't too many real animals that sport rainbow-colored coats, but that's exactly what you'll see when shopping for animal prints this spring. For a wild alternative to staid spring florals, opt for an animal print top in a sorbet-like, multi-colored mix of yellow, orange, purple or green.
Expect to Spend: $25.00 to $55.00
Athletic gear
If you want killer motivation to exercise, invest in athletic gear with an animal print vibe. This spring's offerings of zebra-striped tops, yoga pants with leopard-print waistbands and gym bags with giraffe-print straps are sure to pique your animal instincts so you'll be ready to run, baby, run!
Expect to Spend: $30.00 to $75.00
Up next: More wild animal print trends >>