How To Look Young
& Energized
Get ready to look your best, brightest and youngest ever! From masks and scrubs to creams and concealers, we make sure you have everything you need to get your glow back. Here are our top 10 must-haves for fresh, beautiful skin.
(page 2 of 2)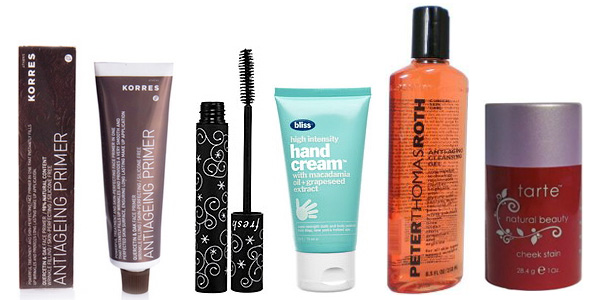 Primer
Primer helps create a smooth canvas for makeup, minimizing pores and small imperfections and leaving you with a flawless-looking face. Korres Quercetin & Oak Age-Reversing Primer ($33) fills in wrinkles and improves the look and feel of your skin.
Mascara
Good mascara can do wonders for your overall look. It opens up your eyes and makes them pop, which in turn makes you look more awake and alert. Fresh Supernova Mascara ($25) conditions as it lengthens, creating thicker, lustrous lashes.
Exfoliator
Younger-looking skin shines through when you exfoliate dead, dull skin cells. Multitask in the shower with Peter Thomas Roth Anti-Aging Buffing Beads ($36). Its gentle, non-irritating formula can be used on face and body and makes for smooth and glowing skin.
>>Get tips for finding the best exfoliator for your skin type
Hand treatment
Don't forget about your hands when it comes to anti-aging treatments. Because we use them for everything (dishes, texting, typing, cooking, cleaning), they tend to show their age. Give them a break with a rich cream. Bliss High Intensity Hand Cream ($18), with its lovely, uplifting citrus scent and silky, never-greasy formula, softens hard-working hands like no other.
>>Go one step further and give yourself an at-home manicure
Cheek stain
Cheek stain gives your cheeks a more natural glow than blush. Tarte Natural Cheek Stain in Blissful ($30) is one of the best, freshening the complexion with just a hint of color using naturally derived pigments. Your cheeks will look as if you've just come from a long walk on a gorgeous sunny day.
Beauty how-to
How to conceal dark circles on any skin tone
Learn how to conceal dark circles, disguise bags and hide blemishes on any skin tone.
More ways to look younger
Tips for youthful hands
Anti-aging skin care tips
Is your hair making you look old?