The Hostess With
The Mostest Style
A party invitation always brings stress about what to wear. But what about when you are hosting? That can bring up a whole new set of issues. If you are hosting a holiday party or dinner at your home, follow these style tips to look your best and be comfortable, too.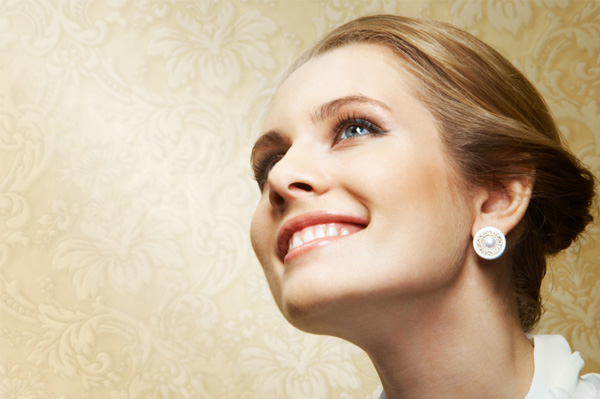 Don't make anyone uncomfortable.
If your extended family is in town with older relatives or younger kids, keep your attire a bit conservative. This is also true if any co-workers are attending the party. You don't need to look dowdy, but a deep plunging neckline, skin-tight dress or thigh-high slit isn't appropriate and could make your guests uncomfortable -- no matter how good you look. A knee-length skirt or soft trousers paired with a cute blouse or festive sweater are safe choices.
Wear flats.
Though your sky-high, designer platforms are to die for, they aren't appropriate for hosting a party. When you are running around all night, the last thing you need is aching feet. Instead, wear a pair of embellished ballet flats accented with jewels, studs or sequins. If you insist on heels, make sure they are kitten heels or wedges. Even if they are high, wedges are much more comfortable and easier to walk in than their stiletto counterparts because they distribute your weight over a larger surface area.
Watch your sleeves.
Don't wear billowy or bell sleeves that will land in the cranberry sauce or dip. The same goes for tops with flowing ruffles or stacks of bangle bracelets. If you are going to be in the kitchen, wear a simple, fitted top to avoid wardrobe mishaps.
Dress thin.
If you've put on some weight and are self conscious about hanging out with friends and family whom you haven't seen in a while, don't worry: Dressing right can make you look 10 pounds thinner.
Don't dress in baggy clothes. Many women try to cover up their weight with oversized sweaters and loose-fitting pants, but baggy clothes actually make you look bigger than you are. Instead, wear clothes that fit and skim the body without clinging to it.
Wear a tunic-length top. Tunics flatter most figure types by elongating the look of the torso, making you appear thinner than you are. Tunics are really trendy right now and look great with leggings, cigarette pants and skinny jeans.
Dress in dark colors. You don't have to wear black. Other neutrals such as chocolate brown, forest green and charcoal gray are perfect choices for the season. Wear dark colors on the area of your body that you are trying to conceal; wear bright hues or fun prints on areas you'd like to emphasize.
Beauty how-to
How to create an evening holiday makeup look
Sean Conklin, Make-Up Designory's Los Angeles store manager, shows how to take a natural daytime makeup look and bump it up to an evening look for a holiday party.
More holiday beauty ideas
6 Holiday party makeup tips
Holiday hairstyle trends
10 Holiday makeup must-haves