Dry, Itchy,
Dull Skin
Goodbye, dewy summer skin. Hello, dry winter skin. Most of us spend the season fighting the environmental factors that make our skin itchy, dull, tight, and generally uncomfortable. Winter skin is unique and winter skin care should be as well. While you're figuring out a way to uncover a fresh complexion, think about these 12 winter skin truths.
(page 2 of 2)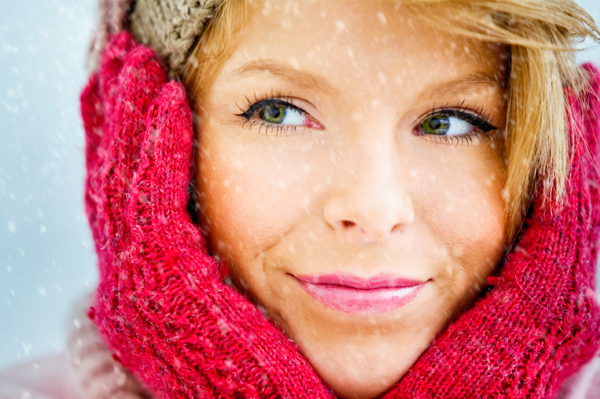 You need a sunscreen in the winter
Even if your climate is gray and cold for the entire season, you still need to be diligent about sunscreen application. "Wear a broad spectrum—both UVA and UVB protection—sunscreen on your face, hands, and neck and chest if they are exposed, everyday, even in the winter," says Dr. Stefanie Christian of Timeless Laser and Skin Care in North Olmsted, Ohio.
Winter skin doesn't need "color"
You may feel pale and pasty when the weather turns colder, but resist the urge to tan. "Tanning beds are dangerous as hell," says Dr. Christian. "In my practice, I'm seeing mothers bringing their teens in for evaluation of age spots!" Use tinted moisturizers and self-tanners instead.
Winter skin needs exfoliation
If you've been waiting all summer and fall to use more powerful skin care ingredients, now is the time to get it done. Talk to your skin care professional about chemical peels, microdermabrasion, or retinol treatments. With less exposure to intense sun, winter skin is begging for an intense exfoliation.
What you eat matters to your skin
You can't control the weather but you can control your nutrition, so protect your skin from the inside out. Cold water fish—salmon, halibut, sardines—flax, and walnuts, are loaded with omega-3 oils, all of which can help fortify the skin's natural oil retaining barriers," says Dr. Christian. "Consider taking evening primrose oil or black currant oil, both of which are good sources of gamma-linolenic acid and promote the healthy growth of skin, hair and nails."
Rosacea is exacerbated by dry winter conditions
If you suffer from rosacea, be prepared for it to get a little worse as the winter months approach. "Forced air and heavy clothing—especially wool—aggravate rosacea symptoms," says Dr. Luftman. "Instead of oil based creams, opt for a water based version instead. Also, wear a layer of cotton between your skin and itchy fabrics."
Winter skin can still be radiant skin
It may take a little extra effort, but winter skin can be just as dewy and fresh as summer skin. Don't throw in the towel just because the temperature is cooler and there's snow on the ground. By adjusting your skin care routine to accomodate for the dry weather, your skin will glow throughout the season and into spring.
---
More dry skin help
---