How To Deal
With Mouth Sores
Canker sores and cold sores are not only painful, they can be hard to treat. So what's the deal with them and how can you bust them on the spot? Read on to find out.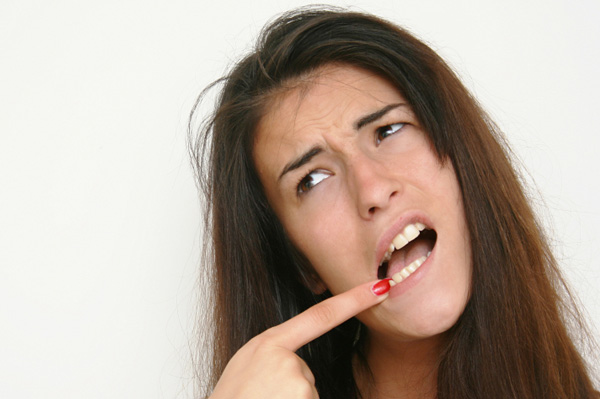 All about canker sores
Canker sores are small sores that typically appear on the inside of the mouth, around the lips, or inside the cheeks. They can take up to two weeks to heal. If you're prone to larger ones, you may have to deal with some scarring.
Doctors don't really know what causes canker sores. They may be caused by an allergic reaction or a certain bacteria that forms in the mouth. They also could be a sign of certain nutrient deficiencies (they commonly develop in women around the time of menstruation).
There are several ways to cope with cankers. One suggestion is to mix salt with water, creating a paste; it can then be applied directly to the canker to dry it out and kill the bacteria. Milk of Magnesia and over-the-counter remedies (like Orajel) also work.
All about cold sores
Caused by a virus related to herpes, cold sores appear around the mouth and on the lips during times of stress. Although they're not dangerous, they're highly contagious, so anyone who breaks out with a cold sore should wash their hands and avoid touching their lips. Other cold sore triggers include cold weather, fatigue, and colds or illness.
The best way to prevent cold sores is to figure out when you develop them. If it's during times of stress, or right after you've spent an extended amount of time in the sun, find ways to reduce your anxiety level or limit your sun exposure. You also can take medications prescribed by your doctor to suppress the virus (this should only be considered if you frequently break out). It's also important to avoid contact with people who have an active lesion (it will look slimy instead of dry).
The good news is that if prevention doesn't work, there are several ways to treat cold sores. Lip ointments and gels—prescribed or over-the-counter—are a great way to cope with some of the symptoms (which can range from pain to excessively cracked lips). Acetaminophen and ibuprofen may be taken to cope with pain and ice may be used to numb the affected area.
More on oral health
More From SheKnows Explorer