7 Fall Beauty
Products
Fall is a tricky season. Some days are cool, while others hang onto the sticky humidity of summer. This temperature roller coaster makes it hard to get ready, and can mean sweating through business meetings or freezing on a dinner date if you've made the wrong wardrobe choice. To help you deal with the unpredictable weather patterns, we've put together a fall style survival kit.
(page 3 of 3)

Lip stain
Lipsticks can be heavy and more of a winter beauty choice. That doesn't mean you need to forgo fall's ruby red lips. Instead of a lipstick, opt for a lighter lip stain. They're easy to wear, come in a rainbow of shades and stay put longer than most glosses. Stila Lip and Cheek Stain does double duty to keep you glowing and gorgeous. We're partial to Cherry Crush.
Long cardigan for layering
Don't get caught without layers on a chilly fall evening. A long cardigan you can wrap around yourself is not only cozy, but stylish to boot. Gap's long wool open cardigan is a chic yet comfortable choice.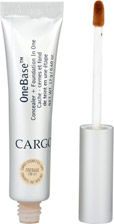 Double-duty products
Going from the lazy days to summer to fall's more hectic pace can be a rude awakening. Save time (and your sanity) with products that perform two or even three tasks. Opt for a cleanser that also exfoliates, and a foundation with SPF or concealer and foundation in one, such as Cargo's One Base.
More tips for fall: