Get Julia's Style
Eat, Pray, Love, in book as well as movie form, became a worldwide phenomenon because women universally relate to the hurdles and triumphs of the heroine. The book is a study of a woman's voyage to find herself after her world as she knew it crumbled. The movie, likewise, tells of struggles and journeys -- but its costuming has already made its way into fashion. Want to embrace cultures of the world with your own personal style? Julia Roberts embodies the spirit in Eat, Pray, Love. Here's how to steal the look!
(page 2 of 2)
Casual comfort
On and off the set of Eat, Pray, Love, Julia is famous for being glamorous in items of ultimate comfort. Whether she's in a men's button-down or cut-off shorts, the look is natural and gorgeous.
Boyfriend nightshirt, $130 (Brulee.net)
Legging with gold stud detail, $120 (Brulee.net)
Black chiffon lounge pant with cream trim, $136 (Brulee.net)
Beauty
Hair
Alan Gold, creative director of The Haig & Co. Salon in suburban Philadelphia, suggests you go for a great long, layered haircut with a center part to get Julia Roberts light, layered and natural hair in Eat, Pray, Love. Use a curling iron on the ends for a natural, tousled free look. Remember to condition your hair before you get started to keep hair soft.
Keep your highlights tone on tone, auburn to dark copper on a warm golden brown base. Julia Roberts' makeup is monochromatic, with warm, peachy and russet tones on cheeks and eyes.
Eyebrows
Spending money on your eyebrows is worth it; a great arched brow really opens up the eye, naturally, without heavy makeup.
Skin
According to Courtney Akai, of Courtney Akai Lash Boutique in New York City, Julia's natural glowing look starts with matte neutral/bone-colored eye shadow from lid to brow. Using an angled brush, fill in your brows with a taupe eyebrow powder. Wet a dark brown matte eye shadow with an eyeliner brush and softly use it against the lash line as eyeliner. One to two coats of mascara will accentuate lashes for a natural look. Contour cheeks with color.
Jewelry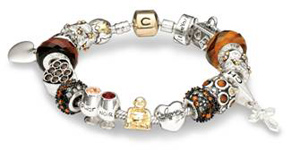 Chamilia, a line of handcrafted bracelets made with 14k gold and sterling silver beads, Swarovski crystal, Italian Murano glass and colored stones, has created an Eat, Pray, Love-inspired piece designed with decadent jeweled boxes of chocolate, glimmering glasses of wine accented with red and yellow jewels, love-inspired beads and 14k gold spiritual embellishments such as Buddha; this exquisite bracelets transports us to Italy, India and Bali. The bracelet as pictured retails for $1,480.00. Sound like a splurge? With individual beads priced at $20 to $400, personalized Chamilia bracelets and earrings can match any discerning fashionista's budget.
More Eat, Pray, Love:
More celebrity looks to steal:
Check out even more of your favorite celebrities' style>>