Splurge Vs. Save:
Celebrity Skin Care Secrets
Celebrities, of course, have the advantage when it comes to skin care: They have at their disposal expert makeup artists who make them look flawless for every event, and they have the money to drop on the finest skin care regimens and treatments. However they do it, these ageless celebrities look incredible for their ages -- and now we have their secrets. And don't be fooled: Just because they make big bucks doesn't mean they spend big on their skin care. Check out our top 10 ageless celebrities' skin care secrets, saves and splurges.
(page 7 of 10)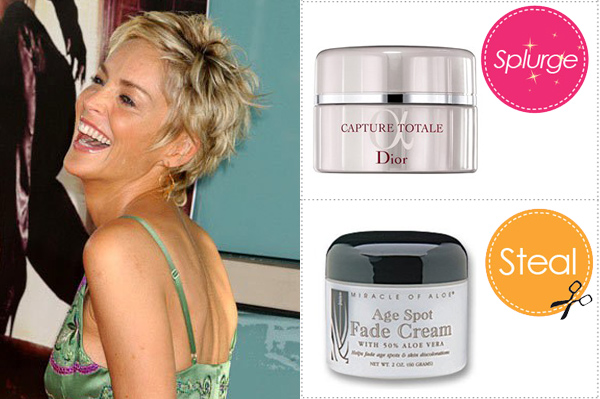 Sharon Stone
By way of a patented alpha-longoza complex based on a rare revitalizing plant, Dior Capture Totale Crème, $125, corrects visible signs of aging such as wrinkles, lack of firmness, and dark age spots. Just ask ageless celebrity Sharon Stone. Once the face of Dior, the 52-year-old Stone touted this product as one of her faves. If you need to save, Miracle of Aloe Age Spot Fade Cream claims to help fade age spots and blemishes for a mere $16.95.
Up next: Christie Brinkley >>