Splurge Vs. Save:
Celebrity Skin Care Secrets
Celebrities, of course, have the advantage when it comes to skin care: They have at their disposal expert makeup artists who make them look flawless for every event, and they have the money to drop on the finest skin care regimens and treatments. However they do it, these ageless celebrities look incredible for their ages -- and now we have their secrets. And don't be fooled: Just because they make big bucks doesn't mean they spend big on their skin care. Check out our top 10 ageless celebrities' skin care secrets, saves and splurges.
(page 4 of 10)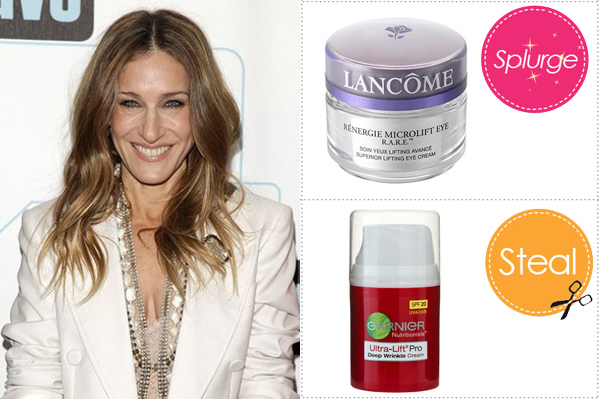 Sarah Jessica Parker
Fitting right into our ageless celebrities top 10 list is Sarah Jessica Parker, a mom of three (including new twins!), who somehow manages to never look tired. She swears by Garnier Nutritioniste Ultra-Lift Pro Cream, saying, "This targets all the things that are important to treat someone my age, like dryness and wrinkles." (And, by someone "her age," she means 45.) The whole line is very reasonable, starting at about $10. If you're willing to splurge, try Lancôme Rénergie Microlift Eye R.A.R.E., which offers "exceptional lifting power" for $60 a jar.
Up next: Catherine Zeta-Jones >>