Before Mod
Go Mad
The 1960s has been home of famous style icons such as Jackie Onassis Kennedy, Edie Sedgewick and Twiggy. But no one could have predicted the big influence into fashion from the women of Mad Men. Set in the 1960s Mad Men has brought the retro trends back to the modern world. Find how you can re-create the looks of Joan, Betty and Peggy with modern pieces with vintage feel.
(page 3 of 3)
Peggy's corporate chic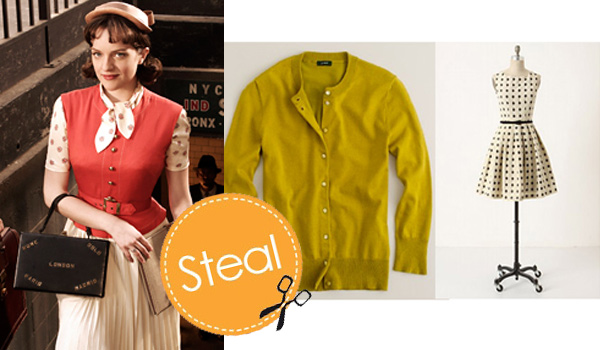 Peggy Olson, a young, career-driven copy writer, strives to be successful in a man's world. She may be playing with the men, but her innocence shows through in her fashion. Playful patterns exaggerate her young exterior, while still remaining professional. Anthropologie's mullany dress is so Peggy. Don't forget the classic cardigan in a vintage color, like J Crew's Jackie cardigan in burnished olive, just as Peggy would.
For more Mad Men related articles:
Mad Men season premier recap
Mad Men fashion must-haves
Mad Men cast chats new season
Retro baby names inspired by Mad Men