Look Like
A Star
Remember the glory days of blue eyeshadow and green mascara? Good times -- and good that they're behind us. These days, one of the hottest looks in Hollywood is makeup so fresh it looks like you're not wearing anything. Take a look at these beauties, and learn how you can get the look.
(page 3 of 3)
All eyes on your eyes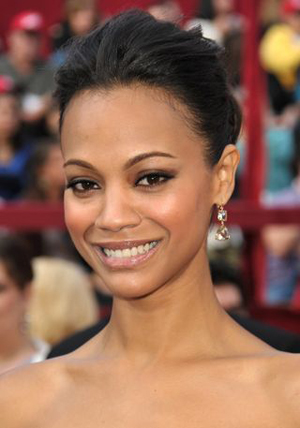 Skin
Want to make sure your someone special can't take his eyes off you? Then go for Zoe Saldana's amazingly dramatic eyes -- and keep everything on the rest of your face minimal, says Cavallo Runzel. She suggests mixing a small amount of highlighting powder or bronzer in with your moisturizer to give your face an allover glow, and use a rosy blush to highlight your cheekbones. For lip color you can set and forget, line your lips with a nude- colored pencil and apply a champagne-colored gloss.
Eyes
For your eyes, says Cavallo Runzel, "Begin by applying a shimmery shade to your brow bone and in the corners of your eyes to make your eyes look brighter and your arches more accented. Keep your eyes elegant, but bold by applying a dark, smoldering shade right under your brow bone. Use your ring finger to smudge the shadow to keep the look soft. Smudge that same color shadow along your lower lash line to create a smoky look."
Wet eyeliner close to the lashes will make a bold line. To make a perfect line, says Cavallo Runzel, "Dot eyeliner across the lid line, then go back and connect these dots." You'll get a precise line every time.
Get celebrity-inspired hair
Steal Rachel McAdams' hairstyle
Get Rachel McAdams' red-carpet double-braided headband with a bun.
More ways to look like a celebrity: