Closet Envy
We recently asked SheKnows readers: Which trend-setting celeb's closet would you raid, given the chance? Find out who nabbed the crown below (and whose closet may be at risk)...
(page 3 of 3)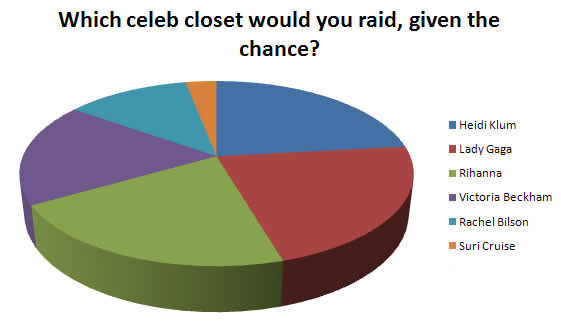 Runners up
Following closely behind is another pop singer famous for her daring fashion choices: Rihanna (21 percent). We would totally agree with you, had she stuck with the fierce style from her "Umbrella" days. But between the new red bowl-cut 'do and the leather hooker wear she's been sporting lately, we'd rather save ourselves the gonnorreah.
The next runner up is princess of posh herself, Victoria Beckham (18 percent). She definitely gets a gold star for her chic style and passion for fashion, but we think she has more important things to worry about, like eating.
Sore losers
Rachel Bilson and Suri Cruise were an epic fail in the style department, with the former OC star at 12 percent and adorable Scientolotot at a measly 3 percent. Really, people? Don't tell us you you haven't looked at Suri's kitten heels, Sephora lip gloss and Burberry dress and thought, "You lucky little bitch..." It's cool, though. Even if you can't enjoy the benefits of having famous parents, you can at least treat your own kid like Xenu royalty. Click here for ways to dress your little girl like Suri for less.
Raid more celeb closets:
Steal the look: Anna Paquin
Steal the look: Zoe Saldana
Steal the look: Reese Witherspoon
Steal the look: Carrie Underwood