Chop Off
Your Locks
Are you considering cutting your hair short? Summer is the best time to take the plunge. Cutting your hair can be liberating - but scary too! Before you head to salon to chop off your long locks, check out our tips for cuts, products and more.
(page 2 of 2)
The hair products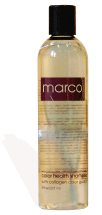 Celebrity hairstylist Marco Pelusi of Marco Pelusi Hair Studio, Inc. in West Hollywood stresses the importance of product selection with short hair.
"Make absolutely certain you have a texturizing product of some sort to add separation and definition to your hair if you want a spiky, fun look. Also, if you have fine hair that's short, use a good volumizing shampoo (Marco recommends Marco Color Bodifying Shampoo). You need to add volume to short hair and it all starts with the shampoo."
"A great product to give your angled bob an edge is Taffy by L'anza," says Kremer. "Use this product to piece out your ends and give it a fun summer look!"
Donating your locks
If you are cutting off a significant amount of hair, consider donating it to a worthy cause. Locks of Love uses donated hair to create natural looking wigs for children suffering from medical hair loss. You can visit locksoflove.org to watch a step-by-step video on how to cut, package and send in your hair. Your hair needs to be at least 10 inches long.
Beautiful Lengths is a hair donation program from Pantene available in both the U.S. and Canada. The program benefits women who have lost their hair due to cancer treatments. To donate, your hair must be at least 8 inches long and not permanently colored, bleached or chemically treated. Check out pantene.com for more information.
Easy DIY hair color
Don't want to cut it short this summer? How about a great new color instead?
SheKnows TV and Expert Hairstylist William Zecco tell you the best products that will keep you looking great and smelling fresh!

Want more on hair care & hairstyles? Check out our guide to finding the best hairstyle >>

More summer hair ideas