Cute & Casual
Celebrity Moms
Sometimes all a mom needs to emerge from wardrobe rut is a little flash of fashion brilliance. Find inspiration in these six celebrity mamas who seem to pull of daytime casual effortlessly.
(page 3 of 6)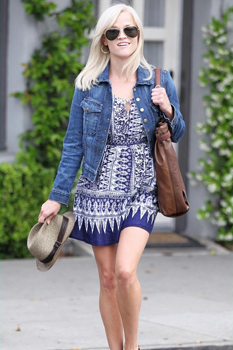 Reese Witherspoon
Reese Witherspoon demonstrates a perfect execution of a casual summer uniform. You don't have to duplicate each piece, but notice how well the combination of a cute summer dress, denim jacket and neutral sandal works. Find your favorite versions of these key pieces. You can wear this look over and over and always look casually cool.
Try this Parrot Melanie Dress by Motel ($78) and an American Eagle denim jacket ($39.95).
Up next: Jada Pinkett-Smith >>