Everything But
The Cosmos
Designer and stylist Patricia Field has worked wonders on the Sex and the City set for years, creating unbelievable fashions from head to toe over which women from NYC to LA salivate. Steal the latest and greatest looks of Carrie, Samantha, Charlotte and Miranda with these sassy Sex and the City 2 looks for less!
(page 2 of 4)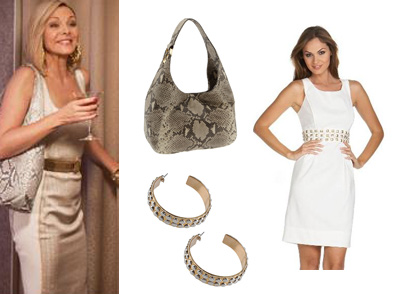 Samantha's sexy gold shift
Sam is known for exuding sex. That means bold animal prints, opulent color palettes and man candy -- lots and lots of man candy. Your dress should be form fitting and leave almost nothing to the imagination. Keep your length dignified at the very top of the knee with this sleeveless dress, $49.99 from Dillards.
Don't forget Samantha's favorite thing: A big, hard... accessory. Large gold hoop earrings (just $7) are the perfect accessory against the simple dress. Pair with a bold snake-skin bag or clutch. This Michael Kors handbag is almost the exact same bag Samantha carries in Sex and the City 2. Expensive at $228, yes, but worth it!
Next: Miranda's daring prints