In The Swim!
Looking amazing in a bathing suit is all about flaunting your assets -- sexy shoulders, toned abs or lean legs -- and playing down your weaknesses. Swimwear for a big booty, skinny legs or curvy hips allows you to suit up for the beach in style. Here are 30 styles that will flatter your body type.
(page 3 of 6)
To play down a big booty
Seek out skirted bottoms or surf shorts instead of skimpy styles to camouflage a big derriere. Also "avoid light colored bottoms and horizontal stripes," Raes says. "And choose a bottom with ample coverage."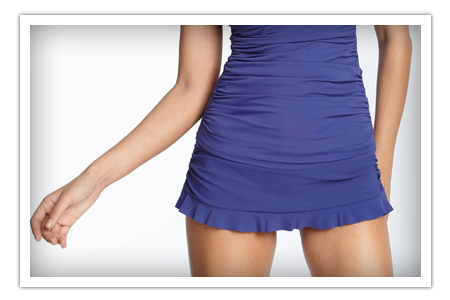 | | |
| --- | --- |
| | Shirred tankini top and skirted bottom (top, $78 bottom, $94) An adorable two-piece suit in purple. We love the feminine vibe we get from this suit. The ruched tankini will slim out your top half while the skirt will play down your derriere. (Shown above). |
| | Profile by Gottex "Tutti Frutti" (top, $88 bottom, $78) We couldn't be happer that we discovered Gottex's swimwear line. It's full of bright colors, slimming features and feminine touches. If you want to show off your slim tummy while playing down your backside, this is the suit for you! |
| | Kenneth Cole bandeau bikini top and ruched bottom (top, $44 bottom, $46) Continuing with bright and bold colored swimsuits for big booties, we also love this triangle style top featuring a skirted bottom. |
How to pump up a flat booty
Look for boy shorts or bottoms with added details like ruffles that will lend a fuller appearance.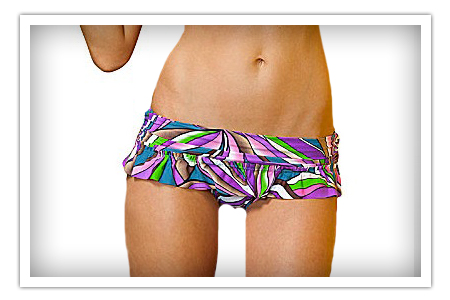 | | |
| --- | --- |
| | Kenneth Cole Ruffled bikini with hipster bottoms (top, $44 bottom, $44) The ruffle detailing on these swimsuit bottoms is light enough to keep you from feeling too girly, but it will still lend your booty a little something extra. |
| | Becca Open Minded clean skirted bottom ($68) This skirted bottom looks like crocheted lace and comes in melon, yellow and white. Four different matching tops ensure you'll find the style that fits you best. Mix and match for a unique suit. |
| | Twisted bandeau halter and graphic print bottoms (top, $48 bottom, $64) Gotta love a little graphic... and of course the cute, skirted swim bottoms that will make your derriere to die for. (Shown above). |
Up next: How to play up and play down your hips >>