Bangin'
Beach Hair
Sun, sea and chlorine—they all can wreak havoc on your hair. Before you kick beauty to the curb for a day of fun in the sun, we consulted renowned NYC hairstylist Mark Garrison to show how you can recreate eight hot celebrity looks at home—perfect for the beach or pool.
(page 6 of 8)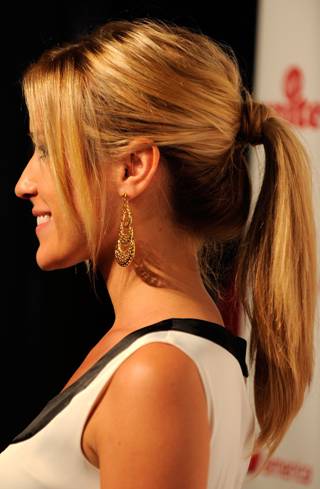 6. PERFECT PONYTAIL
You can't go wrong with a pony. "The key here is hair blown-dry naturally or upside down with some mousse to give it some volume," says Garrison, who recommends applying an after-sun moisturizing mist, such as Phyto Hydrating After Sun Hair Mist, $28, to the hair. Then, "the hair is loosely pulled back, not so severely, resting at the occipital bone in the lower rear of the head and secured in a ponytail." Finish the look by taking a section of the ponytail and wrapping it around the base and pinning it into place, he says.
This look is perfect for gals with longish hair and long bangs.