Bangin'
Beach Hair
Sun, sea and chlorine—they all can wreak havoc on your hair. Before you kick beauty to the curb for a day of fun in the sun, we consulted renowned NYC hairstylist Mark Garrison to show how you can recreate eight hot celebrity looks at home—perfect for the beach or pool.
(page 4 of 8)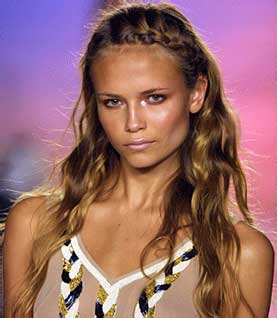 4. FRENCH BRAIDS
"Braids are all the rage," Garrison says. To create this look, first apply a leave-in conditioner to damp hair to give it some texture. Then, part your hair on the side and start a French braid that follows the hairline, working its way down toward the ear. Do this on each side of the part. Last, secure the ends of the braids with elastic.
"You need long, hanging hair for this look," he notes.