Don't Get Carried Away
She's the queen of all things fashion, but even Carrie Bradshaw has had a few misses here and there. Yes, we love her. Yes, she has the whole 'taking risks' thing down. But some of the Sex and the City 2 star's outfits just made us want to spit out our Cosmos. Here are some classic Carrie styles no average woman would be able to rock... tastfully, that is.
(page 5 of 10)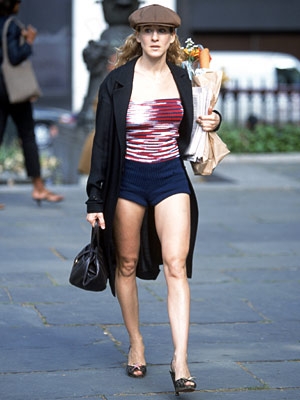 5. Booty shorts
Imagine walking down the street in New York in this getup. The last thing anyone would be saying is "how very Carrie Bradshaw of her!" Carrie loves her some high-waisted short-shorts. On her, it's tolerable, but on the average chick, it's just ghetto. You want to elongate your figure, not cut it off and let it all hang out!
Next: Carrie goes back in time