Don't Get Carried Away
She's the queen of all things fashion, but even Carrie Bradshaw has had a few misses here and there. Yes, we love her. Yes, she has the whole 'taking risks' thing down. But some of the Sex and the City 2 star's outfits just made us want to spit out our Cosmos. Here are some classic Carrie styles no average woman would be able to rock... tastfully, that is.
(page 3 of 10)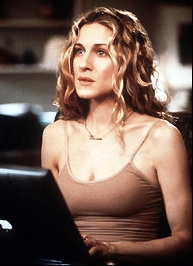 3. No bra
Oh Carrie. It's hard to point such hard fingers at a fashion maven, but Carrie has been guilty of letting her headlinghts sag and sometimes poke out to say "hello" multiple times. This has to stop. There are over 100 different styles of bra and no outfit is impossible to wear without one. Can't find the bra? Don't wear the top! Britney Spears, we're going to give another shout-out to you on this one...
Next: Carrie has a bad hair day