Trendy Totes For Summer
Ditch the reusable grocery bags. Complement your totally cute bathing suit with an equally cute tote bag to match. Behold, the perfect packages for all your summer essentials.
(page 7 of 10)
7. Mossimo Supply Co. Stripe Tote Handbag: Blue
You'll have plenty of room with this purse, chock full of pockets and lined with polyester. It is available for $10 at Target.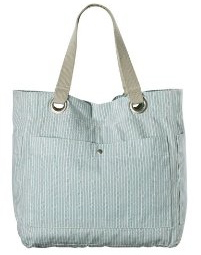 Next: What a bright idea...