Trendy Totes For Summer
Ditch the reusable grocery bags. Complement your totally cute bathing suit with an equally cute tote bag to match. Behold, the perfect packages for all your summer essentials.
(page 5 of 10)
5. Anchor Shopping Bag
This slim satchel is made of raw denim and cotton and has a small inside pocket -- perfect for keeping your iPod away from wet towels and leaky lotion bottles. It is available for $20 at A.P.C.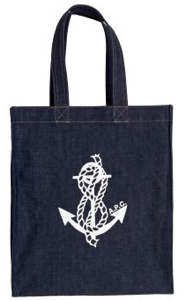 Next: Stripe club