Trendy Totes For Summer
Ditch the reusable grocery bags. Complement your totally cute bathing suit with an equally cute tote bag to match. Behold, the perfect packages for all your summer essentials.
(page 3 of 10)
3. AE Tote Bag: Natural
Anchor all your beach belongings into this cotton twill bag with magnetic snap closure.
It is available for $29.50 at American Eagle Outfitters.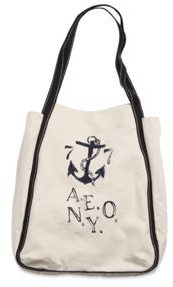 Next: Something borrowed, something blue...