Hot Prom Accessories
Prom is a big night, both for the teens on the dance floor and their parents who send them off in sparkly dresses and rented tuxedos. There are plenty of details that go into making this a successful and memorable evening. The dress, hair and flowers usually take center stage but shoes and accessories are a big part of the overall look. Here is some hot prom bling on a budget.
(page 5 of 5)
Gloves
Although not a fashion staple, gloves can be an interesting prom accessory, especially with the resurgence of 80's fashion. Chances are, this is one accessory that will not mesh with your post-prom wardrobe, so look for a very inexpensive pair.
Try: ASOS Nude Lace Gloves ($6.84)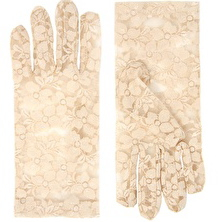 Find more Prom ideas on SheKnows:
10 Ways to make your prom's Worst Dressed List
20 Prom dresses under $100
The Anti-Prom look
5 Prom looks