Hot Prom Accessories
Prom is a big night, both for the teens on the dance floor and their parents who send them off in sparkly dresses and rented tuxedos. There are plenty of details that go into making this a successful and memorable evening. The dress, hair and flowers usually take center stage but shoes and accessories are a big part of the overall look. Here is some hot prom bling on a budget.
(page 3 of 5)
Hair pieces
A hair piece can be a beautiful and unique adornment to your prom look, but please avoid the over-the-top tiara. If you opt for this choice, keep jewelry to a minimum, as all eyes will be on your face.
Try: Stone and Pearl Asymmetrical Headband from Arden B ($14)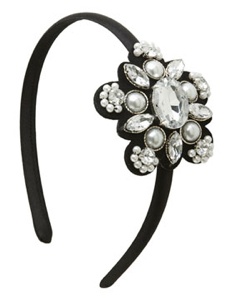 Try: Oasis feathered hair band ($12)
Next: Bags