Fashion In Wonderland
Alice in Wonderland fever has taken over the fashion world. We're not surprised: In the land of Wonderland, anything is possible and the fashion possibilities are endless! The romance, femininity and exquisite detailing have inspired style icons everywhere to take a peek through the looking glass to give their interpretations of the perfect fantasy wardrobe. Esteemed designers like Zac Posen and Stella McCartney have incorporated elements of the movie into Alice-inspired lines. But for us everyday dreamers, there are easy and inexpensive ways to work these fantasy elements into your real-life wardrobe without breaking the bank.
(page 4 of 4)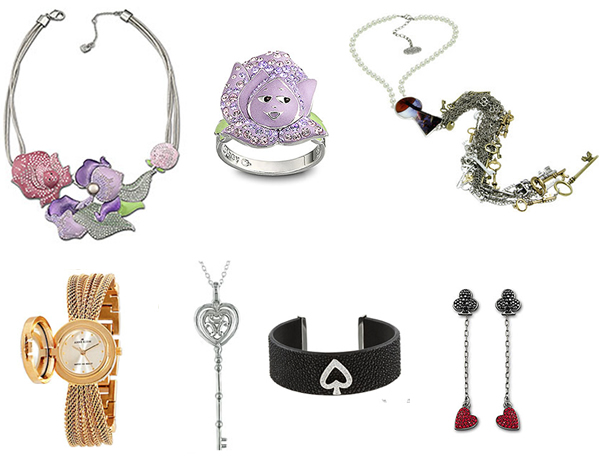 Jewelry
"If I had a world of my own, everything would be nonsense. Nothing would be what it is, because everything would be what it isn't. And contrary wise, what is, it wouldn't be. And what it wouldn't be, it would. You see?" says Alice in Alice in Wonderland. What is a visionary world, we ask, without whimsical accessories? This trend includes unique period inspired necklaces, dreamlike earrings and innocent rings. Even Swarovski crystal has gotten into the game of creating Wonderland-inspired jewelry, including pieces based on the White Rabbit, the Cheshire Cat, and the flower garden. What we love: You are showing your Disney-love, and looking very Earth Day-chic at the same time!
Pictured (from top left): Flower Garden Necklace, $380, Swarovski.com; Flower Garden Ring, $90, Swarovski.com; Tom Binns for Walt Disney Signature "Open for Choice" neckace, $575, CreativeContrast.com; AK Anne Klein Women's Goldtone Covered Dial Mesh Bracelet Watch, $47.99, Overstock.com; Sterling Silver Double-Heart Key Motif Key Necklace, $24.99, Overstock.com;  Sterling Silver CZ Spades Suit Textures Leather Cuff, $23.00, Overstock.com; Red Queen Cards Pierced Earrings, $84, Swarovski.com;