From Shock To Chic
Perhaps the most consistent thing about Lady Gaga's style is its inconsistency. You never know what to expect from the eccentric pop star, but if there's any constant thread in her style, it's outrageousness. While many of her ensembles are simply unwearable in the real world, we take a look back at some of her zany outfits and show you trends from them that you can integrate into your own style.
(page 4 of 4)
Tiered layers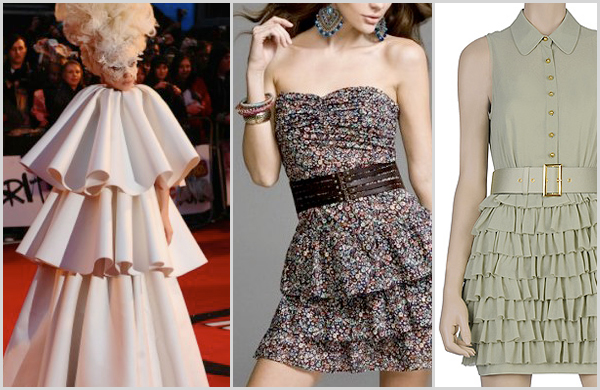 As with almost everything she does, Lady Gaga takes the trend of tiered clothing to an overwhelming extreme. As Reese Witherspoon showed (check out our Steal the Look for her tiered dress look!), tiered clothing can be done in a much more subtle and chic way. In addition to our suggestions to match Reese's look, be sure to check out Express' Ruffled Sweetheart-Neckline Dress ($59.50) and the Tiered Shirt Dress from Forever 21 ($42).
Beauty Editor's Note
How to "Lady Gagify" the look:
Find three humongous coffee filters, remove bottoms and drape over body, frills facing down. To achieve this hairstyle, wet hands and place in an electrical socket. Spritz with hairspray for maximum hold. Tell people it's "high fashion."
More steal the look:
Steal the look: Kate Hudson
Steal the look: Katie Holmes
Steal the look: Penelope Cruz