Fall Beauty Sneak Peek
Our New York Fashion Week correspondent got all the juicy deets about what makeup and hairstyles will be hot this fall/winter 2010. Here's how you can steal the runway beauty looks for less.
(page 4 of 4)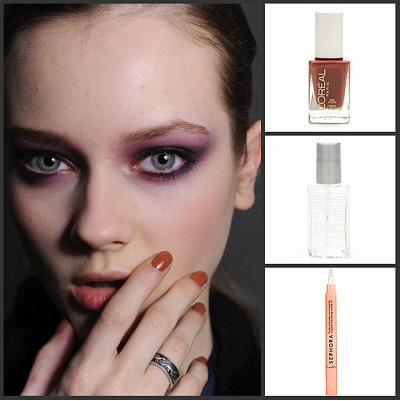 Give yourself a hand this fall/winter and work some magic with new neutrals in warm rusts, chocolates, taupe, grey and beige. Try a shorter, earthy nail, as shown at Carolina Herrera, accented with L'Oreal Caffeinated ($4.99) at target.com, for a interesting look and a clever edge. A "mannequin"-style tip is de riguer, and so easy to apply. All you need is a nude polish that exactly matches your skin tone, a great long-lasting top coat, like Seche Vite ($6.99) at cvspharmacy.com. Don't forget great cuticle oil, like Sephora's lavender oil cuticle pen ($12) at sephora.com.