Fall Beauty Sneak Peek
Our New York Fashion Week correspondent got all the juicy deets about what makeup and hairstyles will be hot this fall/winter 2010. Here's how you can steal the runway beauty looks for less.
(page 3 of 4)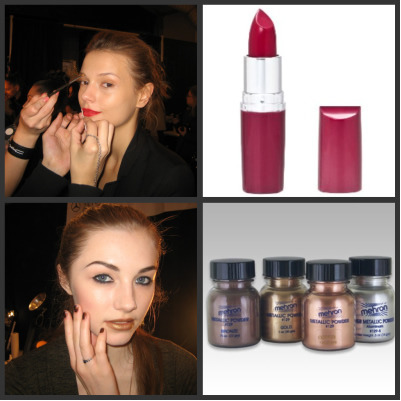 Backstage, the lip looks were more diverse, spanning barely-there color in warm nude, clear or pinkish taupe, brilliant clear reds, or futuristic metallic tones. For classic chic, retro glamour, incorporate your "perfect" red (and there is one for everyone out there) into your makeup bag for fall! At Twinkle and Monique L'Huillier, matte, velvety texture was key. To best achieve this, use a lip brush and blot several times while applying coats for long-lasting color. Try Maybelline Moisture Extreme Lipstick ($4.95) in Royal Red at target.com.
Feeling contemporary and urban? The team at Toni Francesc went for glam with gold, copper or even rose-gold lips! To create the look you will need metallic lip gloss, lipstick or better yet, powder! Mehron Metallic Powder ($7.95) at mehron.com, is an insider favorite, and, when sealed with their lip sealant, makes a perfect pout!
Next: Earthy nails