Green Fashion In The Bag
Reduce, reuse and recycle. We try to do our part when it comes to turning off the lights, taking shorter showers and separating recyclables, so why not be proactive in our choices of handbags and purses? With all the eco-friendly alternatives out there, it is about time we upgraded our handbags to something environmentally friendly.
(page 8 of 10)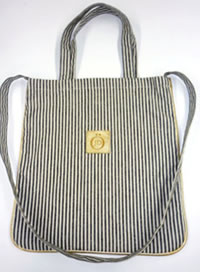 Canvas totes definitely are not what they used to be, this striped Raleigh magazine tote with gold accents, $75, is definitely a step up from the canvas totes we are used to seeing. This bag can be worn over the shoulder or by the handles, and shows that you can look stylish while also being eco-friendly.
More eco-purses on the next page!