Green Fashion In The Bag
Reduce, reuse and recycle. We try to do our part when it comes to turning off the lights, taking shorter showers and separating recyclables, so why not be proactive in our choices of handbags and purses? With all the eco-friendly alternatives out there, it is about time we upgraded our handbags to something environmentally friendly.
(page 7 of 10)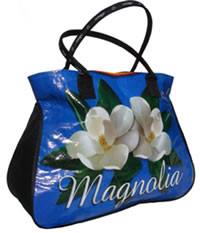 Who wants boring re-useable shopping bags when there are so many great alternatives out there! This Cinchy Tote ($71.45) is perfect for making a statement while running to yoga or picking up drycleaning. This bag can fit almost everything and can even double as an overnight bag.
More eco-purses on the next page!