Green Fashion In The Bag
Reduce, reuse and recycle. We try to do our part when it comes to turning off the lights, taking shorter showers and separating recyclables, so why not be proactive in our choices of handbags and purses? With all the eco-friendly alternatives out there, it is about time we upgraded our handbags to something environmentally friendly.
(page 6 of 10)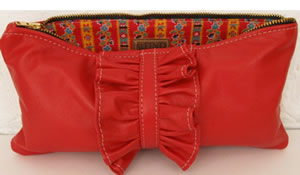 Clutches are great for all times of the year, but for spring, a bright color with a feminine touch is perfect for any outing. This red Ruffle clutch ($90) is made from recycled and reused leather and is a great accent for any spring outfit.
More eco-purses on the next page!