Steal The Celebs' Spring Looks
Here's a look at what the celebs are wearing for spring -- and how to incorporate these trends into your own wardrobe.
(page 2 of 5)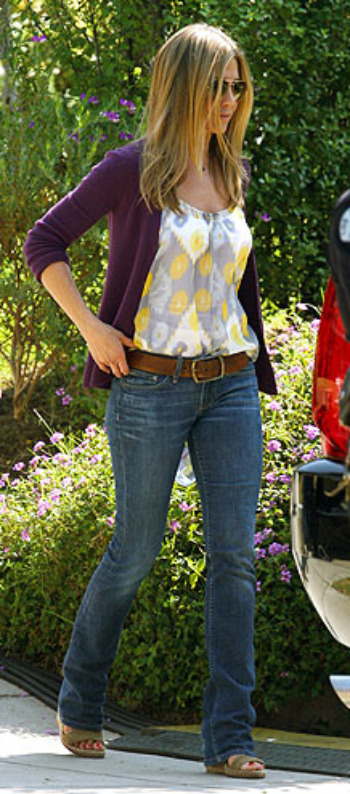 Jennifer Aniston
You can't help but love Jennifer Aniston with her cute physique and hip yet sophisticated attire. She always dresses appropriately for the occasion. When walking the streets of L.A., Jennifer loves her $195 Degaine Slim Bootcut Jeans in Classic Blue. She has also been seen wearing a cute purple cardigan similar to this Sun 68 Purple Cotton/Cashmere Cardigan for $109. Jennifer knows how to stand out by layering the purple cardigan over its natural complementary color, a flowery golden yellow blouse with silver accents. Get this American Eagle Smocked Floral Tank in Grey Shower akin to Jennifer's for $25. Finally, Jennifer loves her basic brown belt, which can be worn with almost anything. Check out Fossil's Sasha Belt for $34 and wear it with jeans, a flowy skirt or even a casual dress with a bold color or pattern. Check out the Double Cross Wedge Sandal, $45, in tan from Cathy Jean Shoes to top off this flirty, sophisticated Jennifer Aniston look.
Next up: Rachel Bilson