Amp Up Your Accessories
We're on the edge of our seats. It's almost time to break out the floral dresses, spring sandals and light jackets! Goodbye winter, hello spring fashions! With the onslaught of gorgeous weather comes the onslaught of new, fabulous clothes. Don't know what to wear this season? You can quickly update last year's wardrobe with this year's accessory trends. Here are 10 spring accessory trends to keep in mind as you shop.
(page 7 of 10)
Spring 2010 fashion trend: menswear watches
You've seen the accessory trend on stars like Olivia Palermo and Brooklyn Decker. You'll see more and more fashionistas rocking menswear watches this spring, specifically in gold tones. If you can't afford the karats, you can go for a "golden" take on the hot trend.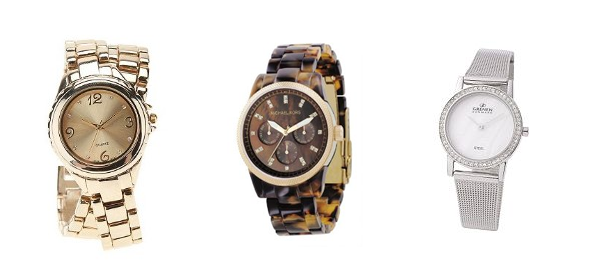 Left to right: Double wrap gold link watch, $38 at Urbanoutfitters.com, Michael Kors tortoiseshell watch, $195 at Macys.com, Grenen stainless steel Swarovski crystal mesh watch, $54 at Kohls.com
up next: pilot shades