Fashion Bloggers Predict 2010 Trends
These stylish women have proven their abilities to spot trends. Their daily outfits, as chronicled on their respective popular blogs, demonstrate an uncanny ability to be ahead of the fashion curve. So when it came time to forecast fashion for this upcoming year, they seemed an obvious choice for guidance. Each lady has predicted a fashion trend, modeled it, and even provided tips on how to work to make the trend work for you.
(page 3 of 7)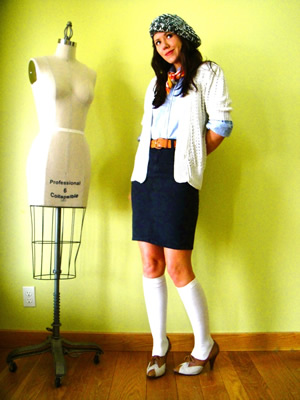 Name
Christina Marie (Second Skin)
Site
http://secondskinstyle.blogspot.com
Fashion trend she predicts will be big in 2010
I think this will be the year of the 'Personal Style' and individual expression. Everyone is experimenting with off-the-wall elements like petticoats, mixing prints, tights and leggings (in every color shape and texture) and accessories that show the human hand's involvement. I am noticing that I am wearing more preppy and menswear inspired looks lately, but that really changes from day to day. I feel optimistic that no matter what, personal, signature looks are always in style.
Her tips on how to wear it
I really feel like anything goes, but a dark gray, denim pencil skirt is a great base for printed blouses, layers of button-up shirts, knits and scarves, and any type of legging imaginable. It's my go to staple item and the starting point for many of my outfits.
Check out the next look!