Fashion Bloggers Predict 2010 Trends
These stylish women have proven their abilities to spot trends. Their daily outfits, as chronicled on their respective popular blogs, demonstrate an uncanny ability to be ahead of the fashion curve. So when it came time to forecast fashion for this upcoming year, they seemed an obvious choice for guidance. Each lady has predicted a fashion trend, modeled it, and even provided tips on how to work to make the trend work for you.
(page 2 of 7)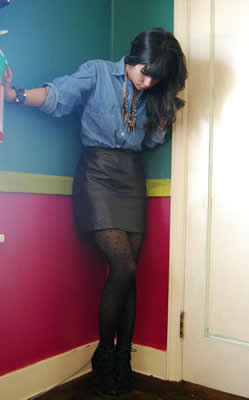 Name
Krystal Bick of This Time Tomorrow
Site
http://thistimetomorrow-krystal.blogspot.com
Fashion trend she predicts will be big in 2010
Denim and Chambray: This one comes with a sigh of relief because it's something we all already for the most part have and love: denim and chambray. These two fabrics, which were spotted quite a bit on the Spring 2010 runway shows from the likes of Anna Sui and Derek Lam, make for an interesting take on comfort meets posh. From lightweight button-up denim blouses to even a little denim dress. I have a feeling we'll be seeing a lot more of this staple item, and not just in the form of your trusty blue jeans.
Her tips on how to wear it
Since denim is such a functional piece, try playing around with it a bit. Pair it with different fabrics and textures. Have a denim or chambray (preferable since it's lighter) button-up blouse? Wear it with your leather pencil skirt or perhaps underneath 2009's champion: the boyfriend blazer. And the best part? It's almost scary how abundant it is at thrift stores and consignment shops these days. Just do us (and yourself) a favor and don't wear too much denim at once.
Check out the next look!