Haute Holiday Hair
Hot hair is a must at holiday parties. If pictures are worth a thousand words, you definitely don't want yours to say "trainwreck," "poodle," "old lady," or (gasp!) "scrunchie." Worry not. We talked to the experts to find the cutest holiday hairstyle trends. The best part? You can do them all yourself.
(page 3 of 6)
Pony up
Next, you need the perfect holiday hairstyle. Liam Carey, lead stylist at the coveted Ted Gibson Salon in New York City, says the ponytail and pompadour are two great hairstyles that are always fierce. Add hair extensions for some extra oomph. We suggest Ted Gibson's clip-in line, $149 for a box -- salon extensions can cost anywhere from $200 to $2,000, so that's a pretty sweet deal.
"One of my favorites is creating a style like Audrey Hepburn," Liam says. It's perfect for its sleekness and versatility. Tie a ponytail at the crown of the head and tease it to give extra volume.  Smooth out any frizzies using Ted Gibson Beautiful Hold Hairspray and Tame It Lotion. Create a bun effect and style to your preference. Pin to secure.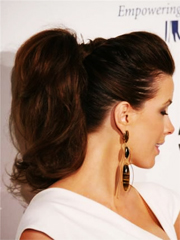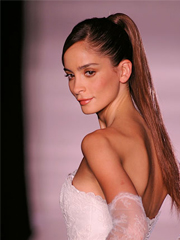 Next: The 3-minute updo!