Over 50 And Fabulous
Age is a state of mind, right? So forget the mom jeans and the retinol and go back to the basics. Here are some fashion and beauty must-haves from a woman who knows.
(page 2 of 2)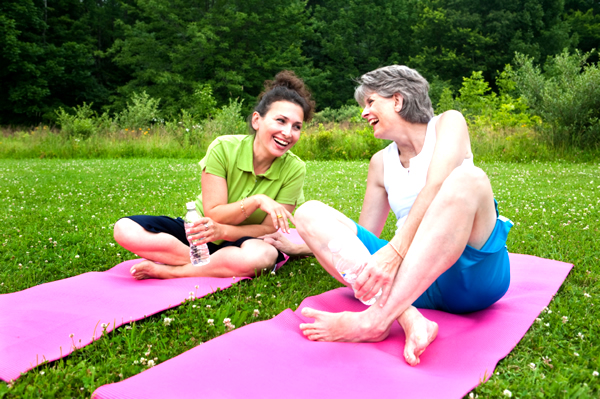 Body wash
Once you've used a luxurious, silky body wash with a heavenly scent, you'll never want to shower without it again. My personal favorite is Laura Mercier's almond coconut milk honey bath. It smells good enough to eat.
Weekly manicure, monthly pedicure and a back massage
The longer each treatment lasts, the better. Relaxing at the salon, chatting with your manicurist and forgetting the outside world for a while can be pretty satisfying. Besides, your body deserves it.
A secret
Knowing something no one else knows is fun. Everyone swoons over your new Birkin. Why do you need to tell them it's a fake? Just smile and say, "Thank you."
A passion project
Submersing yourself in something you love is empowering, especially when you're doing something worthwhile for someone else.
An Indulgence
We all have to own at least one magnificent piece of clothing, even if we go without dinner for a few weeks -- for instance, a sweater handmade of the finest cashmere, a coat that makes you look like Grace Kelly or an evening dress so drop-dead stunning, you never want the night to end.
Physical and mental challenges
Pushing yourself keeps you on your toes. Opportunities are unlimited. Think about learning Iyengar yoga, taking French lessons or starting a new business.
A young friend
One of my best friends is half my age. Young people provide new perspectives and don't let you get away with knowing everything.
Black dress pants
When you can't decide what to wear, you're always glad for that one pair of perfectly fitting slacks in ultra fine, lightweight wool.
Financial knowledge
It's never too late to learn how to diversify your investments, what "annuity" means and the difference between term and full life insurance.  Think about becoming a member of Citigroup's Women & Co. to educate yourself.

a Cashmere Sweater
We all deserve at least one luxurious cashmere sweater. They're soft, toasty warm on frigid days, and feel like a million. My personal favorite: Christoper Fischer's cashmere is well-priced and well made.
Follow these guidelines, and you'll age like fine wine rather than day-old bread. Enjoy!