Bundle Up, Don't Bulk Up
Cooler temps are here to stay, so how do you bundle up without bulking up? Here, we offer some tips on how to select the most flattering cool-weather clothes for every shape.
(page 6 of 6)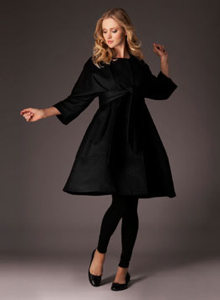 SHAPE: Pregnant/Maternity
Style: Ok, pregnant isn't exactly a shape, but when you are expecting, you still want to make sure you flatter your changing figure. This Isabella + Oliver maternity wool coat, $210, is so classy and beautiful, and we love the above-the-belly tie! For a lighter option, check out the zip-front ponte maternity jacket available for $99 at A Pea in the Pod.
Get tons more style advice in our guide to dressing for your body type>>
More winter fashion trends
Winter 2010 accessories
Winter couture looks for less
Warm weather sweaters
Winter 2010 outerwear photo gallery