Bundle Up, Don't Bulk Up
Cooler temps are here to stay, so how do you bundle up without bulking up? Here, we offer some tips on how to select the most flattering cool-weather clothes for every shape.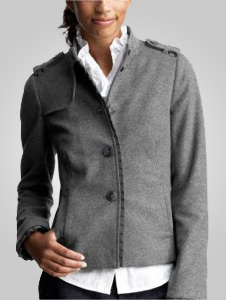 SHAPE: Petite
Style: If you are petite, avoid buying large items that will swallow you up. Fitted clothing, such as this Gap ruffle-trimmed military jacket, $98, is best for a petite figure. Dark colors can elongate the figure, so chose black, navy blue or sultry plum. To further add the illusion of height, choose a jacket with vertical lines in the cut of the garment such as a jacket with long lapels. We love this Tahari Lola notched collar walking coat, $218 at Nordstrom.
Up next: jackets for curvy figures