Friendly Furs
Nothing says "warm and cozy" like a fur coat, but who wants to harm a helpless animal for the sake of fashion? Luckily, tons of great creature-friendly alternatives are out there that look just as hot (if not hotter!) than their more cruel counterparts.
(page 4 of 6)
Cruelty-free jewelry
We love this silver metal-based bracelet that features red faux fur, and it's a steal at just $13.39 from Overstock.com.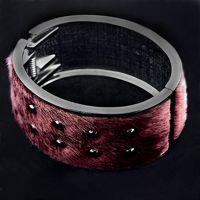 Up next: bundle up