Winter Color Trends
Chic. Classic. Casual. These words explain the season's top runway-to-your-closet colors.
(page 2 of 2)
Putting these colors in your closet
So how can you incorporate the season's hottest color trends into your every day wardrobe? Here are a few key tips: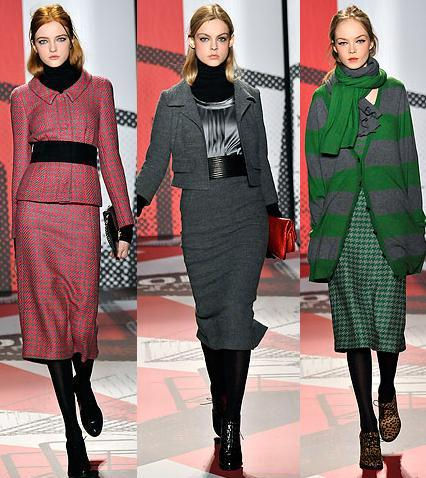 Pick a color "theme" that best suits your personality or the tones that work best with your skin tone and hair color.
Experiment with the season's bolder color trends in small doses such as a belt in ruby, amethyst or emerald.
Combine color trends with some of the big fashion trends of the season such as scarves, tights, and fur.
DKNY debuted its collections for autumn/winter 2009/2010 at New York Fashion Week. The collection shows off mute grays, greens, reds and black in a very feminine and elegant style with below-the-knee skirts, short jackets and touches of animal print. 
Combine muted tones with interesting details like this layered look with tights, chunky sweater and detailed jacket.
Indigo, midnight and other blue tones are all over the runway right now, as are ankle boots. Kill two trends with one stone with these delicious Giuseppe Zanotti blue patent-leather peep-toe ankle boots.
More winter fashion on SheKnows
Outerwear for every shape
Winter 2010 accessories photo gallery
Winter 2010 outerwear photo gallery